Reversible and multifunctional two-wheel tractor with PowerSafe® hydraulic clutch | power up to 11.7 hp | tilling width up to 80 cm.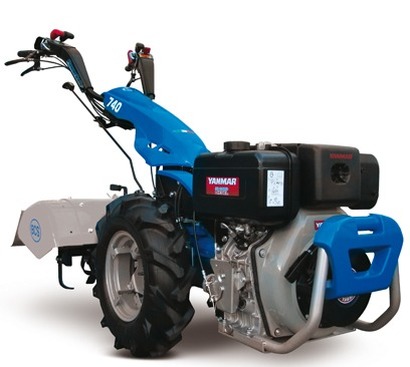 The versatility of BCS two-wheel tractors PowerSafe® allows to fulfil all requirements pertaining to soil working, gardens' care, greens maintenance, inter-row mowing in vineyards and orchards or in uncultivated areas and during winter use, all year round.
Thanks to their handling and ease of use, the BCS two-wheel tractors PowerSafe® are well performing any type of use and can be used by a vast range of users: from hobby to professional farmers, and from individuals to the greenery caretaker.
The PowerSafe® hydraulic clutch, patented and exclusive to the BCS Group,also guarantees maximum reliability, comfort and total safety for the operator.
TECHNICAL FEATURES

– Gearbox: 3 forward + 3 reverse speeds– Quick reverser to change the forwarding direction
– Differential: with lock– PowerSafe® clutch: with multiple discs in oil bath– Independent power take-off: with engagement in oil bath
– Independent working brakes: on the two wheels– Parking brake- Handlebar: mounted on silent-blocks, adjustable in height and sideways and reversible– Safety devices: complying with the applicable regulations
DIMENSIONS AND WEIGHT
Min/Max width (Without Tools)
With 5.0-10 wheels: 503 / 575 mm
With 6.5/80-12 wheels: 668 / 790 mm
With cage wheels Ø cm 49 : 450 mm
Weight (Without tools)
with GX390 engine, 5.0-10 wheels: 112 kg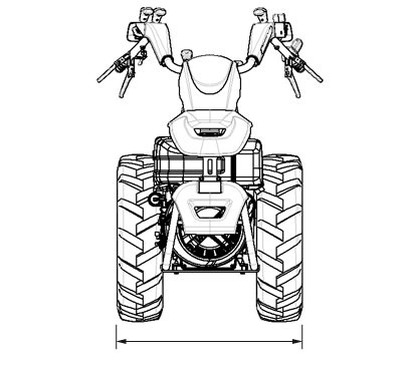 SPEED
Below is a graph of speeds in km/h (forward and backwards) with 5.0-10 tires.
-Tiller version (with rear equipment)
-Motor mower version (with front equpment)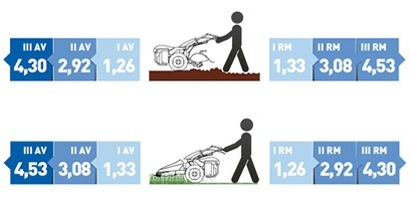 POWERSAFE®
The PowerSafe® clutch with multiple steel discs in oil bath and flanged directly to the engine, patented and exclusive to the BCS Group, guarantees a series of concrete advantages for the operator, in addition to their compliance with safety regulations. indicated by regulation EN 709 / A4.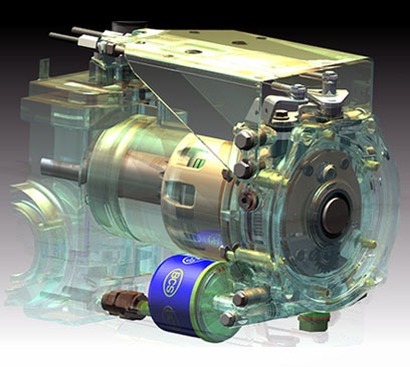 Security
The machine and tool immediately shuts down if the handle is let go off, however; the motor remains in motion.
Double action desmodromic system to prevent accidental resumption of work.
Reliability
Hydraulic clutch without any maintenance.
Virtually unlimited duration even when used with reciprocating equipment or with high inertia.
Benefits
The machine does not overheat even when used for extended periods of time.
Temperature does not impact the performance of the machine.
Comfort
Smooth and gradual actuation of the clutch lever, as well as the minimum force required to hold the safety lever depressed.
Elimination of the prerequisites for starting the engine.
Warranty
Extended to 5 years on the entire PowerSafe® clutch assembly.
Attachments