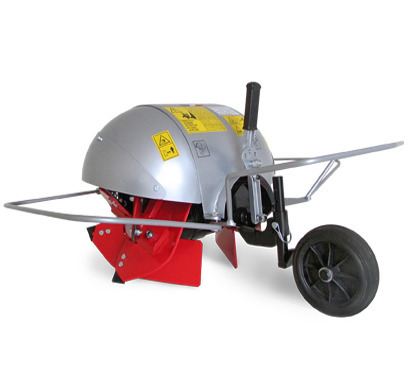 The rotary version of the GroundBlaster 180° swivel plough works similarly to the standard rotary plough but, instead of a single ploughshare that throws the worked soil to the right, it has a second ploughshare that can be set to unload soil onto the left side.
Therefore each time you go over, turning the lever on the back of the attachment allows the two ploughshares to be changed.
Each ploug share has four spiral blades that turn on a vertical shaft, effortlessly digging into all medium-consistency terrains, even on a slight slope and in tight spaces.
Like the standard rotary plough, the GroundBlaster 180° swivel plough is the ideal attachment to turn up new pieces of land for farming, to build raised beds, to create drainage channels and more.
TECHNICAL FEATURES
– Two ploughshares that rotate with a lever to set the unloading of soil to the right or to the left
– Working width: 25 cm
– Working depth (max): 30 cm adjustable with the rear supporting wheel
– Required minimum power*: 6.3 kW
– Transmission: with gears in oil bath
– Tubular work safety protection for the operator's safety
The GroundBlaster 180° swivel plough requires the use of a BCS two-wheel tractor with 5.0-10 wheels with an internal width of 40-42 cm.
DIMENSIONS AND WEIGHTS
Width 950 mm – Weight 71 kg
*purely approximate and referred to standard working conditions