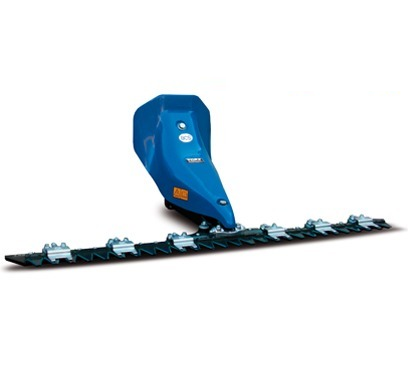 The cutter bar is the specific implement for cutting grass and forage.
It comes in many width values: from 80 to 210 cm. Its cutting units have different features to always get the best result in terms of different kinds of grass to be cut: "Laser®" cutter bars with standard blade-holder, cutter bars with middle cut fingers or cutter bars with double alternate movement, "Duplex", "Dual Laser®" or "Dual Laser® Elasto" type.
All the cutter bars are standard supplied with slides for cutting height adjustment.
The transmissions, which support and drive the cutter bars, are "Torx", maintenance-free, oil-bath ones; they are also available with double movement for "Duplex", "Dual Laser®" and "Dual "Dual Laser® Elasto" cutter bars.
Should it be necessary to improve the balancing of the machine at work, an optional 12 kg weight is available, which can be applied to the transmission in oil bath "Torx".
VERSIONS:
– "Laser®" cutter barsAvailable cutting widths: 80, 100, 115, 135 and 155 cm. These anti-clogging bars are recommended for tough and fine grass typical of mountain sides or manicured lawns. The perfect "scissor cut" is guaranteed by high quality materials. They are used on all kinds of ground where no swath is required.
Read more
– Cutter bars with middle cut fingersAvailable cutting widths: 115 and 145 cm. This cutter bars have the traditional fingers with upper tab to support the rod to be cut. Suggested for cutting general grass and for haymaking with formation of swath due to two conveyors.Their use is suitable on land where swath is appropriate.
– "Duplex" cutter barsAvailable cutting widths: 120, 150 and 180 cm. These cutter bars have a double alternate movement (the blade and the teeth array move in a counterposed way) equipped with traditional fingers with upper tab (to support the rod to be cut) and self-adjusting blade-holders which assure constant pressure without any manual operation by the operator.Efficient and effective in every working condition, they never clog and offer a high quality cut even at high speed.