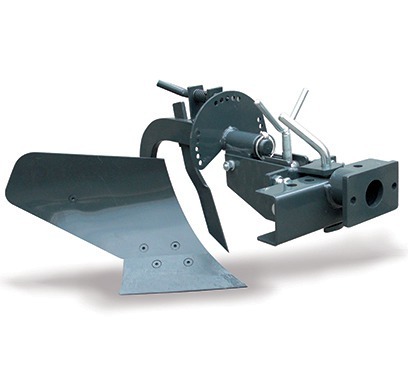 The plough is the specific attachment for turning over and fragmenting the soil for the subsequent processing or directly for sowing. In turning the soil, weeds and previous crops are buried, speeding their decomposition.
The single-plough consists of a ploughshare whose function is to cut into soil. Its helical mouldboard design generates the groove by sliding the ground sideways. Positioned perpendicular to the ground, a knife is mounted in front of the ploughshare-mouldboard group, allowing it to cut into the soil itself.
The plough is also available in 180° swivel plough version.
To use the plough it is advisable to set up the two-wheel tractor with 6.5/80-12 wheels and relative weights (34 kg each).
TECHNICAL FEATURES
– Working width: 20 cm– Share penetration depth: adjustable through the dedicated adjustment screw– Height of the knife: adjustable– Working angle: adjustable through the dedicated lever – Weight: 21 kg (single plough) – 34 kg (single plough for two-wheel tractor 750 PowerSafe®)