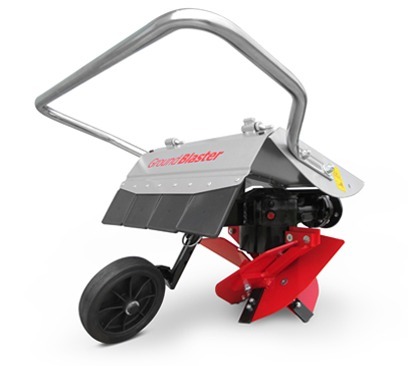 The GroundBlaster rotary plough solves the problem of ploughing and subsequent rotary hoeing, incorporating the two operations in a single passage, leaving the soil ready for sowing.
It is the ideal attachment for making the soil soft and therefore more permeable, for eliminating weeds or for the tillage of small cultivation areas where it would be impossible to work with traditional ploughs.
The use of the rotary plough up hills or on slopes gives the advantage of being able to restore the soil uphill.
It can be also used also for the creation of furrows, by performing multiple passes.
Should it be necessary to improve the balancing of the machine at work, optional 5 kg ballasts are available, which can be applied to the attachment.
TECHNICAL FEATURES
– Working width: 25 cm– Minimum power required*: 6.3 kW– Transmission: with gears in oil bath– Round safety guard for operator's safety– Working depth: adjustable through the support wheel connected to the rear mounting– Side sheet panel supplied for obtaining ridge-free cultivation and to prevent any dropping of the soil onto the nearby fields– Optional: 5-kg each overlapping ballasts
The rotary plough GroundBlaster requires a BCS two-wheel tractor equipped with 5.0-10 wheels at an inner width of 40-42 cm.
DIMENSIONS AND WEIGHTS
Width 680 mm – Weight 50 kg
*data are approximate and refer to standard working conditions